Safe and durable
Dedicated powerful motor
Precision materials
Four handles
Adjustment system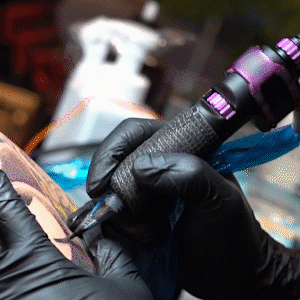 Professional rotary axis tattoo machine pen, with soft and hard adjustable tattoo accessories.
Safe and durable
RCA connection, highly versatile, durable for a long time without damage.
Dedicated powerful motor
Powerful motors for tattoos can be used for lining and shading.
High-speed motor 12V / 10500 rpm
Working voltage 6-1Ov
Needle stroke 3.5mm
The tattoo pen of the future is here, efficient, intelligent, and special adjustment design to facilitate your operation.
Precision materials
Aluminum space aluminum material, safe and easy to use.
Four handles
Four sockets can meet your individual needs (two disposable silicone handles, two aluminum handles).
Long lasting power
1800 mAh external battery can be charged for 2 hours and can work for 4-6 hours.
Adjustment system
Subversive needle adjustment design pecial external soft and hard adjustment system.
Products Show
Product parameters: