Worldwide Express Shipping Available
Only 100 PCS in stock!:each ID can buy 1PC limitedly!
The Kinetic Clock
A clock that turns passing hours into moving art, it gradually changes shape throughout the day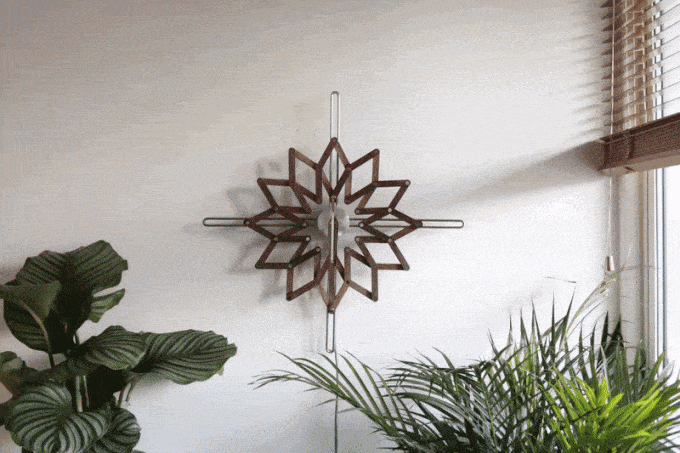 This is the clock that turns the passage of time into a dynamic artwork.
It gradually changes shape throughout the day, opening and closing like a flower.
At midday, when the sun is higher in the sky the clock is at its largest. At 6pm, when the sun is lower the clock is at its smallest.
It is a moving backdrop to you life, offering a new way to tell the time, through shape and pattern.
The clock face is made from small pieces of wood connected with joints, allowing them to move freely. As the hour hand turns round it pulls and pushes the wooden mechanism, causing it to gradually open and close.
it is a 12 hour clock with a single hour hand, much like a sundial. It does not show minutes or seconds, but rather, shows the time of day. It offers a more relaxed and meditative view of time.
Two dots on the moving structure represents an hour marker and a single dot represents a half hour marker.
In addition to working as a clock, it has a demo mode. In this mode it completes one rotation every 60 seconds. Perfect for entertaining.
You can leave it in demo mode for a few minutes or a few hours or a few months, its up to you. When you switch back to clock mode it will always return to the correct time.
And to switch between the two modes? Just tap the lower metal bar. It has a touch sensor.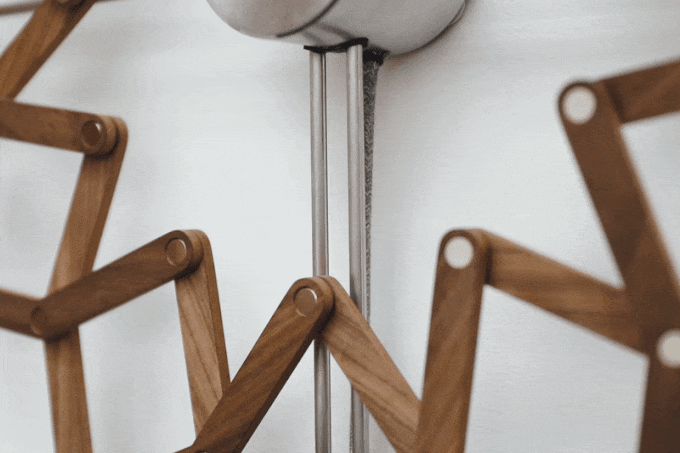 Many people who have used the clock have commented on the remarkable calming effect of the clock. Throughout the continuous movement, it is smooth and unbelievable.
The clock is incredibly silent even up close​
It is the crystallization of countless hours of engineering and design thinking.
The clock is made from high quality materials engineered to run smoothly and to last.
The clock body is machined from a single piece of aluminium, making it both durable and beautiful.
A solid block of aluminium is used for each clock body
The mechanism is machined from engineered walnut, and hand oiled to seal it and bring out the colour. The rails are stainless steel for strength and each and every clock is hand assembled to ensure the highest quality.
WHY CHOOSE US?
Quality assurance.
Ingredient safety.
Non-inferior products.

OUR GUARANTEE
Limited Time
100 sets in stock only
SHIPPING
Your orders will be processed within 3 working days.
Base on the situation of COVID-19, logistics suspended in some countries and delivery times for logistics in some countries have been extended.
Please be patient, your order will be delivered.
Click ADD TO CART To Order Yours Now!