No water standby mode
11 different built-in modes
Single dial user interface
Open source design
Safe to use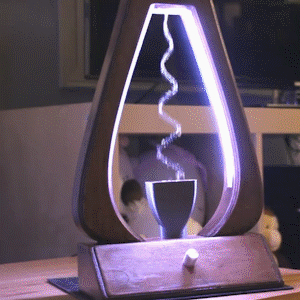 Use water-control fountain lights to manipulate water in ways that are visually impossible,create a relaxing way in your home.
A Fountain of Art & Science!
Watch the water bend, change color, freeze into place, rise upward, split into multiple streams, and even show effects such as volcanic eruptions or northern lights.
Adapt to various indoor environments
Due to its slim shape, it can adapt to various indoor environments and attract audiences with magical water treatment methods.
No water standby mode
You can also set an anhydrous sleep mode, in which it can use the ambient atmosphere/accent/night light.
Handmade
Each Aquarius is handmade from Baltic birch plywood and painted in dark walnut or antique white with a waterproof gloss seal.
Safe to use
After the set time (about 6 hours), the water flow will automatically turn off and switch to ambient light mode.
11 different built-in modes
You can cycle through 11 different modes. All are controlled by the aluminum dial at the front of the frame.
You can switch between various modes including spiral, northern lights, etc.

Add new design
Open source design allows you to add new designs, you can easily start by changing the color of an existing pattern, or change the direction by changing its frequency!
Product specifications
Power adapter: 12V DC, 2A
Consumption: 2.4W max
Frame: Baltic birch plywood (
Liquid capacity: 250ml tap water (at least 150ml is required)
Dimensions: 12 cm x 22 cm x 34 cm (width x length x height). The upper frame is only 3.75 cm thick!